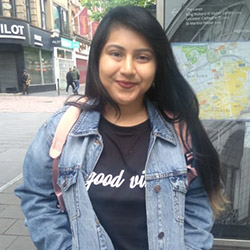 After graduating from BHIS, I attended De Montfort University in Leicester, to do BSc. Psychology (Hons). DMU has a gold standard in The Teaching Excellence and Student Outcomes Framework (TEF). TEF is a national exercise, introduced by the government in England. It assesses excellence in teaching at universities and colleges, and how each higher education provider ensures excellent outcomes for their students in terms of graduate-level employment or further study. A university is awarded the "Gold Standard" for delivering consistently outstanding teaching, learning and outcomes for its students. It's of the highest quality found in the UK. DMU was also unique in its record of work for the public good, and belief that universities are uniquely placed to make a difference. This value underpinned their collaboration with the United Nations. Their new Strategic Plan showed how the university continues to use the UN's 17 Sustainable Development Goals as a prism through which to explore new and exciting possibilities in teaching, research and student support.
Through DMU I was able to not just excel in my academic journey but also enhance my global impact. I graduated with a First class honours degree classification, being in the top 3% of my cohort (of 160+ students). I also attended many international trips with DMU and got a chance to attend an international conference held at the Ming Chuan University in Taipei, Taiwan. I was also on their DMUGlobal trip to New York where we attended the UN's SD-17 conference at the United Nations Headquarters in New York and I was one of the participants who spoke at the UN. During my last year, I was the Course Representative for my entire cohort and attended weekly meetings with the entire teaching faculty (including the Dean of Psychology and Head of Health and Life Sciences) to present any issues students were facing and assist them in problem-solving collaboratively. The time I spent with DMU, not only enhanced my academic skills in psychology and research but also added to my abilities as an orator and team leader.
Currently, I am doing M.Sc. Applied Clinical Psychology from the University of Bath. It was ranked 6th overall in the UK and is ranked #3 for Psychology, just below The University of Cambridge. Getting the chance to qualify for and attend such a prestigious institution has been an honour in itself. Despite the academically intensive nature of my Masters programme, I have had the opportunity to engage in extracurricular activities. I am one of the Post Graduate Student Ambassadors. It is a paid role that allows me to plan and organise many of the outreach activities and campus events. One of my most memorable jobs as a PG ambassador was conducting an Instagram Takeover for the university. It was a live event with over 2000 viewers, where I answered questions and gave advice to new and prospective students about studying at UOB. I am currently working on my research project as a part of my Masters' dissertation on Eating Disorder pathologies and their interventions in men. I am really looking forward to my graduation in December and to keep progressing in my journey to become a clinical psychologist.
Aishwarya Chaudhary (2016)